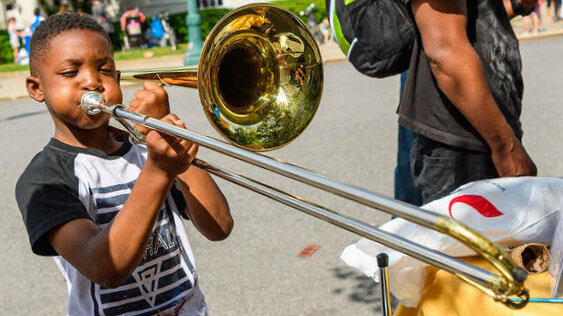 In Concert with the Community
The Schenectady-Saratoga Symphony Orchestra's music education and appreciation efforts are aimed at fostering an appreciation of classical music among young audiences, including those traditionally underserved, exposing the public to varied and challenging musical experiences, and providing opportunities to develop and showcase the talents of young musicians.
As a community organization governed by an active board of directors drawn from and representative of the community, we recognize that we are responsible for contributing to the region's economic, social and educational development.
Meeting our responsibility to contribute to the economic and social development of the region, we:
• Collaborate with other arts, civic and cultural organizations to identify opportunities for growth: and
• Seek ways to use our unique musical resources to support regional development.
• Meeting our responsibility to contribute to the social and educational development of the region, we;
• Bring high-quality live classical performances to the community;
• Provide a variety of avenues for audiences to participate in the experience; and
• Work actively to develop and present talented musicians, predominately local.
We contribute to education by:
• Offering pre-concert lectures to enhance appreciation and understanding of the upcoming concert;
• Reinforcing NYS fine arts standards for music education through ensemble presentations at elementary, junior, and senior high schools;
• Fostering excellence in promising young musicians through our Stefan Scholarship Competition;
• Promoting piano performance and skills through our Parillo Piano Competition for students ages 13-18;
• Providing tickets to our subscription series for area school children through our BOCES ticket program;
• Working with local High School musicians through occasional shared-stands concerts with the entire orchestra.